Water Bottle to Help Drink More Water: Staying Hydrated
A water bottle can significantly aid in increasing your daily water intake. It serves as a constant reminder to hydrate and can easily track the amount of water consumed in a day.
Staying hydrated is crucial for health and well-being. Many people do not consume enough fluids each day. Having a water bottle on hand can help increase the amount of water you drink.
It can act as a visual prompt, reminding you to drink, and can also allow you to monitor your daily water intake, ensuring you meet your hydration goals.
A water bottle serves as a constant reminder to drink water frequently.
Allows for easy tracking of daily water consumption.
Increases water intake and therefore improves overall health and hydration.
It's more eco-friendly as it reduces the use of disposable plastic bottles.
In summary, using a water bottle is a simple and effective strategy to ensure you consume enough water each day.
It acts as both a reminder and a measurement tool, making it easier to stay on track toward achieving your hydration goals.
So, invest in a good water bottle, keep it within sight, and take regular sips throughout the day to maintain optimal hydration.
Water Bottle Brand Name & Features Chart
| Water Bottle Brand | Capacity (Oz) | Material | Features |
| --- | --- | --- | --- |
| Hydro Flask | 32 | Stainless steel | Double wall vacuum insulated |
| Nalgene Tritan | 32 | BPA-Free Eastman Tritan Co-Polyester | Suitable for both warm and cold beverages |
| CamelBak Eddy | 25 | BPA-Free Polypropylene | Easy to carry and dishwasher safe |
| S'well | 17 | Stainless steel | Keeps drinks cold for 24 hours, hot for 12 |
| Contigo Autoseal | 24 | Plastic | Leak and spill-proof design |
| Brita Premium | 26 | BPA-Free Plastic | Filter included, reduces chlorine taste and odor |
| Lifefactory | 22 | Glass | Dishwasher safe, BPA/BPS free |
| Yeti Rambler | 36 | Stainless Steel | Double-wall insulated, dishwasher safe |
Water Bottle Brand Name & Features Chart
Key Takeaway
A well-designed water bottle can significantly encourage more water consumption daily, promoting better hydration.
Hydration reminders and markers on water bottles can serve as motivators to achieve daily water intake goals.
The right water bottle with excellent portability and ease of use can make it more convenient to carry around, thereby increasing water consumption.
The environmental benefits of using a refillable water bottle include reducing plastic waste and promoting sustainability.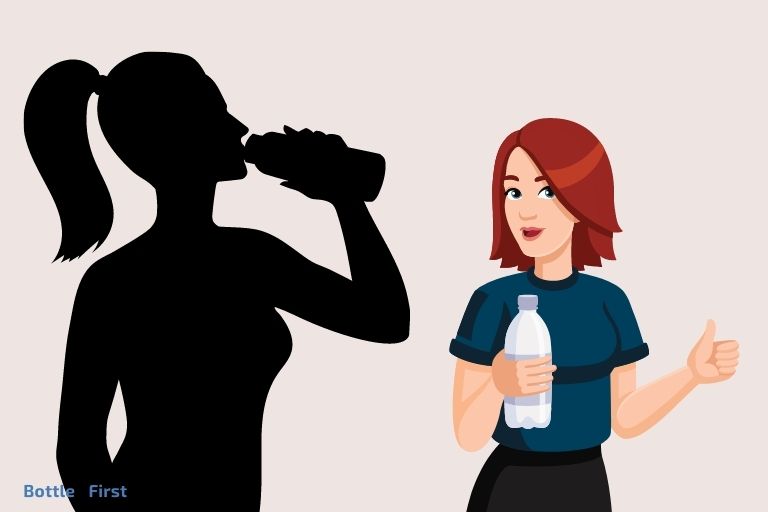 Five Facts About Drink Water from a Water Bottle
A water bottle with time markers offers a simple yet effective reminder system to ensure that you remain hydrated throughout the day. Time markers divide the bottle into sections for specific hours, urging you to drink a certain amount by each time indicated. (Source: Healthline)
Infuser water bottles allow you to add fruits or herbs to your water, enhancing the taste and potentially increasing your desire and motivation to drink more water. (Source: Medical News Today)
According to a study, water intake can positively impact physical performance, energy levels, and brain function, underlining the importance of a helpful tool like a water bottle in maintaining hydration. (Source: European Journal of Nutrition)
The American Chemical Society stated that if every American used one refillable water bottle for a year, it would save about 217 plastic water bottles from ending up in a landfill. Hence, it benefits the environment massively. (Source: American Chemical Society)
Water bottles designed for easy usage and portability, such as those with a robust carry handle, a comfortable grip, or a carabiner, encourage users to carry them everywhere, leading to an increase in water intake. (Source: The Journal of Human Kinetics)
Importance Of Staying Hydrated
Staying hydrated is essential for maintaining good health and overall well-being. Our bodies are made up of about 60% water, which plays a key role in various bodily functions.
From regulating body temperature to aiding digestion and transporting nutrients, water is vital for our bodies to operate efficiently.
In this section, we will explore the benefits of drinking enough water daily and the health risks associated with dehydration.
Benefits Of Drinking Enough Water Daily:
Boosts energy levels: Drinking an adequate amount of water helps combat fatigue and increases energy levels. Proper hydration ensures that our cells are adequately nourished and function optimally, keeping us energized throughout the day.
Promotes better digestion: Water helps in the breakdown and absorption of food, keeping the digestive system running smoothly. It prevents constipation and supports regular bowel movements, promoting overall digestive health.
Aids weight loss: Drinking water before meals can help control appetite and reduce calorie intake. Water has zero calories and can serve as a healthy alternative to sugary beverages, helping maintain a healthy weight.
Enhances brain function: Proper hydration is crucial for optimal brain function. Dehydration can lead to poor concentration, memory problems, and a decline in cognitive performance. Drinking enough water keeps our brain cells hydrated and facilitates clear thinking.
Supports healthy skin: Water helps maintain skin elasticity, prevents dryness, and promotes a youthful appearance. Proper hydration flushes out toxins from the body, contributing to clear and vibrant skin.
Boosts immune system: Adequate hydration supports a strong immune system by ensuring proper functioning of organs involved in immune response. Water helps transport oxygen and nutrients to cells, enabling them to fight off infections and diseases.
Health Risks Of Dehydration:
Impaired physical performance: Dehydration can significantly impact physical performance, leading to reduced endurance and increased fatigue during exercise. It is crucial to stay hydrated before, during, and after physical activity to prevent dehydration.
Increased risk of heat-related illnesses: Inadequate fluid intake can elevate the risk of heat exhaustion and heatstroke. During hot weather or intense physical activity, it is important to drink enough water to stay cool and prevent heat-related illnesses.
Impaired cognitive function: Dehydration affects cognitive function, causing difficulties in focus, attention, and memory. It can impair decision-making abilities and overall mental clarity, emphasizing the importance of staying hydrated to maintain optimal cognitive performance.
Digestive issues: Insufficient water intake can lead to constipation and digestive problems as water is essential for the smooth movement of food through the digestive tract. Drinking enough water helps prevent such issues and keeps the digestive system functioning properly.
Increased risk of kidney stones: Dehydration can contribute to the formation of kidney stones, as insufficient water intake leads to concentrated urine. Drinking an adequate amount of water dilutes urine and helps prevent the build-up of minerals that can form stones in the kidneys.
Remember, staying hydrated is a simple yet vital practice that has numerous health benefits. Incorporating an effective water bottle into your daily routine can be a helpful reminder to drink enough water and reap the rewards of proper hydration.
Features And Benefits Of A Smart Water Bottle
Water Bottle To Help Drink More Water
We all know the importance of staying hydrated throughout the day. But let's be honest, sometimes it can be a real challenge to remember to drink enough water. That's where a smart water bottle comes in handy.
With its innovative features and benefits, a smart water bottle is the perfect tool to help you stay hydrated and make drinking water a breeze.
Tracking Water Consumption
One of the primary features of a smart water bottle is its ability to track your water consumption. By syncing with an app on your smartphone, the water bottle keeps a record of how much water you drink throughout the day.
This feature allows you to easily monitor your progress and ensure that you're meeting your hydration goals. No more guessing or trying to remember how much water you've had – the smart water bottle does all the work for you.
The water bottle tracks your water intake and displays it on the app dashboard.
It provides real-time updates on the amount of water you've consumed.
You can set daily water goals and track your progress towards meeting them.
The app also provides insights and analysis of your hydration patterns over time.
Reminders And Notifications
Another fantastic feature of a smart water bottle is its reminder and notification system. With busy schedules and constant distractions, it's easy to forget to drink enough water.
But with a smart water bottle, you'll receive gentle reminders and notifications throughout the day to ensure that you stay hydrated.
The water bottle sends timely reminders to drink water at regular intervals.
You can customize the frequency and timing of the reminders based on your preferences.
The notifications can be in the form of sounds, vibrations, or even push notifications on your phone.
The reminders help you establish a healthy drinking routine and keep you on track with your hydration goals.
Integration With Fitness Apps
For those who are passionate about fitness and tracking their progress, a smart water bottle is a game-changer. It seamlessly integrates with popular fitness apps, allowing you to sync your water intake data with your overall wellness profile.
This integration enables you to have a holistic view of your fitness journey and make more informed decisions about your hydration and overall health.
The smart water bottle syncs data with fitness apps such as fitbit, apple health, and myfitnesspal.
It provides a comprehensive overview of your daily water consumption alongside your other fitness metrics.
The integration helps you understand the correlation between hydration and your performance during workouts.
By combining water intake data with exercise and nutrition information, you can optimize your fitness routine for better results.
A smart water bottle offers a range of features and benefits to help you drink more water and stay hydrated.
From tracking your water consumption and sending reminders to integrating with fitness apps, this innovative device takes the guesswork out of staying hydrated and makes it easier than ever to prioritize your health.
So why not invest in a smart water bottle and take control of your hydration journey today?
Choosing The Right Water Bottle For Your Needs
When it comes to staying hydrated throughout the day, having the right water bottle by your side can make all the difference.
With so many options available in the market, choosing the perfect water bottle can be overwhelming. Let's break down the key factors to consider when selecting a water bottle that suits your needs.
Material Options And Their Advantages
Stainless steel: Durable and long-lasting, stainless steel water bottles are a popular choice. They are resistant to stains, odors, and corrosion, making them ideal for outdoor activities. Stainless steel bottles also retain temperature for a longer duration, keeping your cold water cold and hot drinks hot.
Glass: If you prefer a more eco-friendly option, glass water bottles are a fantastic choice. They are free from any harmful chemicals and do not retain flavors or odors. Glass bottles are easy to clean and give you a pure taste with every sip.
Tritan: Lightweight and shatterproof, tritan water bottles are perfect for those who lead an active lifestyle. They are bpa-free and offer great transparency, allowing you to monitor your water intake. Tritan bottles are available in various colors and designs, adding a touch of style to your hydration routine.
Different Sizes And Capacities Available
16 oz: This compact size is ideal for those who prefer a lighter load or want a portable option for short outings or work hours.
24 oz: A versatile choice, the 24 oz water bottle strikes a balance between capacity and portability. It provides enough hydration for longer durations while still fitting easily into most bags.
32 oz and above: If you find yourself needing a larger water supply for activities like hiking or camping, opting for a 32 oz or bigger bottle is a wise decision. These bottles ensure you stay hydrated throughout your adventures.
Insulated Vs. Non-Insulated Bottles
Insulated bottles: Designed to maintain the temperature of your beverage, insulated water bottles are perfect for those who enjoy their drinks cold or hot. They feature a double-walled construction that keeps cold liquids chilled and hot liquids warm for extended periods. Whether you're enjoying a refreshing sip or a cozy cup of tea, an insulated bottle prevents temperature fluctuations.
Non-insulated bottles: For those who prioritize simplicity and lightweight designs, non-insulated bottles are an excellent choice. They are easy to carry and often come in stylish designs. While they may not retain temperature as well as insulated bottles, they are still effective for regular hydration needs.
Now that you have a better understanding of the key factors to consider when selecting a water bottle, you can make an informed decision based on your preferences and lifestyle.
Remember, staying hydrated throughout the day is crucial, so choose a water bottle that motivates you to drink more water and makes hydration effortless.
Top 5 Water Bottles To Help You Stay Hydrated
Water Bottle To Help Drink More Water
Staying hydrated is essential for our overall well-being, and having a reliable water bottle can make a significant difference in reaching our daily water intake goals.
If you're looking for a water bottle that will help you stay hydrated throughout the day, we've got you covered.
In this section, we'll explore the top 5 water bottles that not only keep you hydrated but also come with impressive features to make your water-drinking experience even better.
Water Bottle A – Sleek Design And Easy-To-Use Tracking Features
Sleek and stylish design that you'll love carrying everywhere.
Integrated tracking features to monitor your water intake effortlessly.
User-friendly interface makes it easy to set and track your hydration goals.
Reminders and alerts to keep you on track with your water consumption.
Durable construction that can withstand daily use.
Water Bottle B – Durable And Leak-Proof For Outdoor Activities
Made from high-quality materials to ensure durability and long-lasting performance.
Leak-proof design, perfect for outdoor activities and on-the-go hydration.
Wide-mouth opening for easy filling and cleaning.
Designed to fit most cup holders and backpack pockets, offering convenient portability.
Available in a variety of sizes to suit your needs.
Water Bottle C – Smart Hydration Coach With In-App Personalized Tips
Smart technology that analyzes your hydration patterns and offers personalized recommendations.
In-app hydration reminders and tips to keep you motivated throughout the day.
Syncs seamlessly with your smartphone and fitness tracker for accurate tracking.
Customizable settings to tailor it to your preferences.
Encourages you to reach your hydration goals with the help of virtual coaching.
Water Bottle D – Innovative Self-Cleaning Technology For Optimal Hygiene
Cutting-edge self-cleaning technology eliminates bacteria and odors, ensuring optimal hygiene.
Automatic cleaning cycles that save you time and effort.
Built-in uv sterilization to kill harmful microbes.
Easy-to-use and maintain, making it hassle-free to keep your water bottle clean.
Advanced filtration system that provides clean and refreshing water.
Water Bottle E – Stylish And Eco-Friendly Option With Hydration Reminders
Stylish design that combines fashion and function.
Made from eco-friendly materials, allowing you to drink responsibly.
Hydration reminders to help you stay on top of your water intake goals.
Available in a range of trendy colors and patterns.
Convenient features such as flip-top lids and carry handles for easy use on the go.
These top 5 water bottles provide different features and functionalities to suit various preferences and lifestyles.
Whether you prioritize sleek design, durability, smart technology, self-cleaning capabilities, or eco-friendliness, there's a water bottle on this list that will keep you hydrated and satisfied.
Invest in the right water bottle and take a step towards a healthier and more hydrating lifestyle.
Tips And Tricks For Making The Most Of Your Water Bottle
If you've invested in a water bottle to help you drink more water, congratulations! It's a great step towards improving your hydration. But owning a water bottle is just the beginning.
To ensure you're getting the most out of it and staying on track with your hydration goals, here are some tips and tricks to keep in mind:
Setting Goals And Tracking Progress
Start by setting daily water intake goals. This will give you a clear target to strive for and help you stay motivated. Aim for at least 8 glasses (64 ounces) of water per day.
Break down your daily goal into smaller increments. For example, if your goal is 64 ounces, you can aim to drink 8 ounces every hour.
Use the markings or measurements on your water bottle to track your progress throughout the day. This visual reminder will help you stay accountable and ensure you're meeting your goals.
Consider using a water tracking app or journal to log your daily intake. This can provide valuable insights and help you identify patterns in your hydration habits.
Enhancing The Taste Of Your Water
If you find plain water boring, experiment with different flavors. Add slices of fruits like lemon, lime, or berries to infuse your water with a refreshing taste.
Alternatively, you can try herbal teas or water enhancers that come in a variety of flavors. Just make sure to choose options without added sugars or artificial sweeteners.
Invest in a water bottle with a built-in infuser. These bottles have a separate chamber where you can place fruits, herbs, or even cucumber slices, allowing their flavors to infuse into the water.
Don't forget to keep your water bottle clean to avoid any unpleasant tastes. Regularly wash it with warm, soapy water and rinse thoroughly.
Creating A Hydration Routine
Make it a habit to carry your water bottle with you wherever you go. Whether you're heading to work, running errands, or hitting the gym, having your water bottle within reach will serve as a constant reminder to stay hydrated.
Set reminders on your phone or use apps that prompt you to take regular sips of water throughout the day. This can help break up your water intake into manageable increments.
Use your water bottle as a time marker. Assign specific times to finish a certain amount of water. For example, aim to finish half of your water bottle by noon and the remaining amount by the end of the workday.
Consider incorporating hydrating rituals into your routine, such as drinking a glass of water first thing in the morning or having a water bottle by your bedside for nighttime hydration.
Remember, staying hydrated is crucial for overall health and well-being. With these tips and tricks, you'll be able to make the most of your water bottle and maintain optimal hydration levels throughout the day. Cheers to a healthier you!
How Does Adding Fruit to a Water Bottle Help Increase Hydration?
Adding fruit to a water bottle can boost hydration. By infusing the water with natural flavors, add fruit to water bottle enhances taste, encouraging people to drink more water. Additionally, fruit adds a touch of vitamins and minerals, making hydration more beneficial.
FAQ About Water Bottle To Help Drink More Water
How Does A Water Bottle Help You Drink More Water?
Drinking from a water bottle helps you track your intake, ensuring you stay hydrated throughout the day.
What Features Should I Look For In A Water Bottle?
Look for a water bottle with a large capacity, a leak-proof lid, and a convenient carry handle for easy transportation.
Can A Water Bottle Help In Weight Loss?
Using a water bottle can aid in weight loss by keeping you hydrated, reducing cravings, and promoting a feeling of fullness.
How Do I Clean And Maintain My Water Bottle?
To clean your water bottle, use warm soapy water and a bottle brush. Regular cleaning prevents bacterial growth and ensures safe drinking.
Are There Any Eco-Friendly Water Bottle Options Available?
Yes, there are eco-friendly water bottle options made from materials like stainless steel and glass, reducing plastic waste and promoting sustainability.
Conclusion
A water bottle designed to help you drink more water is a game-changer in maintaining a healthy lifestyle. With its innovative features and user-friendly design, this bottle becomes your personal hydration assistant.
By tracking your water intake and sending reminders, it ensures that you stay properly hydrated throughout the day.
Its durability and leak-proof design make it a reliable companion for everyday activities, whether you're at the gym, office, or on the go. The convenient size and sleek look of this bottle also make it easy to carry and a fashionable accessory.
By investing in a water bottle that encourages you to drink more water, you're taking a proactive step towards improving your overall well-being.
Remember, staying hydrated is crucial for maintaining optimal health, and this water bottle is the perfect tool to help you achieve that.
Grab one now and experience the difference it can make in your life!