What to Put in a Spray Bottle? Water, Vinegar, Detergent
A spray bottle can be filled with various types of liquids depending on its intended use.
This can range from water for houseplants, cleaning solutions for household cleaning, hair care products like detangling sprays, or even DIY beauty products such as face mists.
Spray bottles are versatile tools that can be used in multiple scenarios around the house, office, or even when traveling.
They can function as containers for different liquid products, providing a convenient and controlled mode of application.
This ranges from spraying plants with water, applying cleaning solutions to surfaces, evenly distributing hair care products on your tresses, or even spritzing face mists for a refreshing midday pick-me-up.
Spray bottles can be used for watering indoor plants.
Homemade cleaning solutions can be stored and applied using spray bottles.
Hair care products like detangling sprays or heat protectants can be put in spray bottles for easy application.
DIY beauty products like face mists or toners can be put in spray bottles and carried for on-the-go refreshment.
Spray bottles are an essential tool in every household due to their versatility. They provide a convenient and portable way to store and apply various liquids, from plant care to beauty routines.
Their controlled spray mechanism ensures that the liquid is evenly dispersed, making them efficient and economical.
Whether it's for hydrating your indoor plants, tidying up your living space, maintaining your hair, or refreshing your skin, a spray bottle can do it all.
10 Items to Put in Spray Bottle
| S. No. | Contents | Purpose |
| --- | --- | --- |
| 1 | Water | For misting plants |
| 2 | Vinegar | For natural cleaning |
| 3 | Detergent | For homemade detergent spray |
| 4 | Essential Oils | For homemade air fresheners |
| 5 | Alcohol | For sanitizing surfaces |
| 6 | Hair Conditioner | For DIY detangling spray |
| 7 | Homemade Insecticide | For protecting plants |
| 8 | Paint | For spray painting |
| 9 | Ironing Water | For ironing clothes |
| 10 | Bleach | For disinfecting surfaces |
10 Items to Put in Spray Bottle
Key Takeaway
Spray bottles are versatile tools and can be used to hold a variety of solutions and substances.
The contents of a spray bottle can significantly range, from homemade cleaning solutions to personal care products.
It's important to always label spray bottles correctly, especially when using them for cleaning solutions or chemicals.
Correctly maintaining and cleaning a spray bottle extends its lifetime and ensures it continues to function effectively.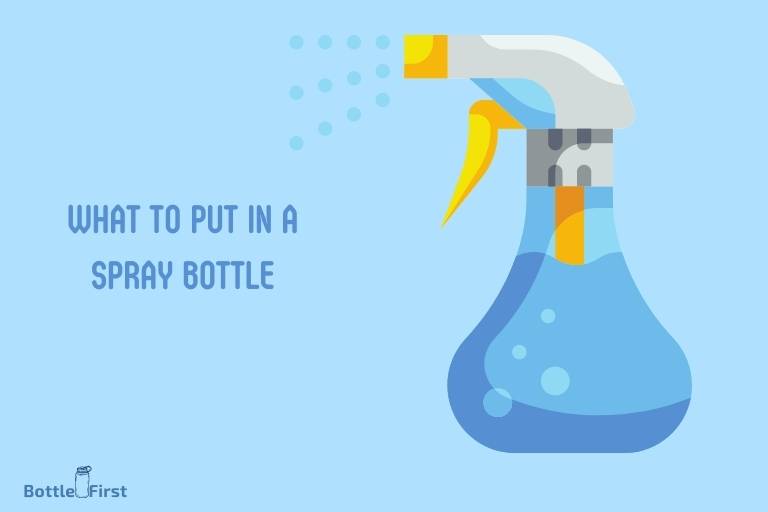 Five Facts About to Use a Spray Bottle
Spray bottles were first patented in the late 19th century, intended for use in the gardens, according to ThoughtCo.
Spray bottles are often used for cleaning purposes, to hold water, vinegar, and other homemade cleaning solutions.
They can also be used in the cosmetic industry, filled with hair and skin care products, such as hair spray or facial mists.
In the kitchen, spray bottles can be used to store oils for even distribution while cooking, as advised by Epicurious.
Even artistic applications have been found for spray bottles, as they can be filled with paint or dye for various techniques and effects.
Types Of Spray Bottles
Plastic Spray Bottles
Lightweight and portable: Plastic spray bottles are lightweight and easy to carry around, making them perfect for on-the-go use.
Durable and long-lasting: Made from sturdy plastic materials, these spray bottles can withstand regular use without easily breaking or cracking.
Easy to clean: Plastic spray bottles can be easily cleaned by rinsing them with warm soapy water. They are also dishwasher-safe, which makes the cleaning process even more convenient.
Versatile applications: Plastic spray bottles can be used for a wide range of applications, including gardening, household cleaning, personal care, and more.
Affordable and accessible: Plastic spray bottles are generally more affordable compared to their glass or metal counterparts, making them a budget-friendly choice for everyday use.
Glass Spray Bottles
Non-toxic and safe: Glass is a non-toxic material that doesn't leach harmful chemicals into your liquids, making it a safe choice for storing various solutions such as cleaning products or homemade beauty treatments.
Preserves integrity: Unlike plastic, glass doesn't react with the ingredients or contents of the bottle, ensuring that the quality and integrity of your liquids remain intact.
Reusable and recyclable: Glass spray bottles are reusable, which reduces waste and promotes sustainability. Additionally, they can be easily recycled if they do reach the end of their lifespan.
Uv protection: Some glass spray bottles come with uv protection, preventing harmful sunlight from degrading or altering the contents over time, especially for products that are sensitive to light exposure.
Widely available: Glass spray bottles can be found in various sizes and styles, making it easy to find one that suits your needs and preferences.
Metal Spray Bottles
Durability: Metal spray bottles are built to withstand heavy-duty use and are highly resistant to impact, ensuring they won't break or crack easily.
Chemical compatibility: Metal spray bottles are perfect for storing and using solutions that may react with plastic or glass materials, as they are generally more resistant to chemical reactions.
Rust-resistant: Most metal spray bottles are designed with rust-resistant coatings or made from materials such as stainless steel to prevent rusting and maintain their usability over time.
Precision spraying: Metal spray bottles often come with adjustable nozzles or spray patterns, allowing you to control the intensity and pattern of the spray for more precise application.
Industrial and professional use: Metal spray bottles are commonly used in industrial and professional settings due to their durability and ability to withstand harsh conditions.
Choosing The Right Spray Bottle For Your Needs
Considering The Material:
Plastic: Plastic spray bottles are lightweight, affordable, and commonly used for household cleaning solutions. They are durable and resistant to most chemicals but may deteriorate over time with continuous exposure to certain substances.
Glass: Glass spray bottles are eco-friendly, non-toxic, and a great option for essential oils, homemade beauty products, and other natural solutions. They are sturdy and do not react with the contents, ensuring the purity of the liquids.
Evaluating The Capacity:
Small capacity: Spray bottles with a smaller capacity, such as 8 to 16 ounces, are ideal for household cleaning tasks, as they are easy to handle and maneuver. They are also convenient for carrying in a bag or storage.
Large capacity: If you have larger areas to clean or need to spray a large quantity of liquid, opt for spray bottles with capacities ranging from 32 to 64 ounces. These are suitable for use in commercial settings or for gardening purposes.
Examining The Spray Nozzle Type:
Adjustable nozzle: Spray bottles with adjustable nozzles allow you to switch between a mist, stream, or jet spray pattern. This versatility is particularly useful when you need different levels of coverage or force.
Fine mist nozzle: Designed for producing a fine mist, these spray nozzles are perfect for applying liquid evenly over a larger surface area. They are commonly used in hair salons, gardening, and cosmetic applications.
Trigger sprayer: Trigger sprayers have a comfortable grip and are suitable for applications that require a constant and controlled spray. They are commonly used in cleaning products and garden pesticides.
Continuous sprayer: These unique sprayers provide a continuous spray without the need for repeated pumping or pressurizing. They are commonly used for plant care, hairstyling, and various household tasks.
Household Cleaning Solutions For Spray Bottles
All-Purpose Cleaner Recipe
Mix equal parts white vinegar and water in a spray bottle.
Add a few drops of dish soap for extra cleaning power.
Shake the bottle gently to combine the ingredients.
Window Cleaner Recipe
Combine ¼ cup rubbing alcohol, ¼ cup white vinegar, and 1 tablespoon cornstarch in a spray bottle.
Fill the rest of the bottle with water.
Shake well before each use.
Disinfectant Spray Recipe
Mix ½ cup hydrogen peroxide, ½ cup rubbing alcohol, and 1 cup water in a spray bottle.
Add essential oils like lavender or tea tree oil for a pleasant scent (optional).
Shake the bottle well before using.
Gardening Solutions For Spray Bottles
Homemade Weed Killer Recipe
White vinegar: Acts as a natural herbicide, killing weeds on contact.
Dish soap: Helps the mixture adhere to the weeds' leaves, ensuring better absorption.
Water: Dilutes the vinegar and prevents any damage to your garden plants.
Plant Insect Repellent Recipe
Garlic: Has natural insect-repelling properties.
Chili peppers: Adds a spicy kick to the mixture, deterring insects.
Water: Dilutes the mixture and allows for easy application.
Fertilizer Spray Recipe
Compost or manure: Provides a rich source of nutrients for your plants.
Molasses: Feeds beneficial soil microbes, aiding in nutrient absorption.
Water: Dilutes the mixture and allows for easy application.
Beauty And Personal Care Solutions For Spray Bottles
Refreshing Facial Mist Recipe
Mix 1 cup of distilled water and 2 tablespoons of rosewater in a spray bottle.
Add a few drops of your favorite essential oil, such as lavender or chamomile, for a calming effect.
Shake well before each use and spray onto your face from a distance.
This hydrating mist will leave your skin feeling refreshed and rejuvenated.
Homemade Hair Detangler Recipe
Combine 1 cup of distilled water, 1 tablespoon of conditioner, and 1 teaspoon of coconut oil in your spray bottle.
Shake the bottle well to ensure all the ingredients are mixed thoroughly.
Spray the mixture onto damp or dry hair, focusing on the tangled areas.
Gently comb through your hair, starting from the ends and working your way up.
The detangler will help loosen knots and leave your hair soft and tangle-free.
Homemade Body Spray Recipe
In your spray bottle, combine 1/4 cup of distilled water, 2 tablespoons of witch hazel, and 10-15 drops of your preferred essential oil.
Popular choices include citrus scents like lemon or grapefruit, floral scents like lavender or rose, or refreshing scents like peppermint or eucalyptus.
Shake the bottle well to evenly distribute the oils.
Spritz the body spray onto your skin for a refreshing burst of fragrance.
Enjoy the natural aroma and reap the benefits of essential oils.
FAQ About What To Put In A Spray Bottle
What Can I Put In A Spray Bottle For Cleaning?
You can use a spray bottle for cleaning solutions such as vinegar and water mixture, alcohol-based solutions, or diy cleaners.
How Do You Make A Spray Bottle Solution For Plants?
To make a spray bottle solution for plants, mix water with a few drops of dish soap or neem oil, then spray onto the plants to help deter pests.
Can I Put Essential Oils In A Spray Bottle?
Yes, you can mix essential oils with water in a spray bottle to create a natural air freshener or room spray.
What Can I Put In A Spray Bottle To Kill Weeds?
A mixture of vinegar and dish soap can be an effective spray bottle solution to kill weeds naturally.
Can I Put Bleach In A Spray Bottle?
While bleach can be used for cleaning, it should not be put in a spray bottle as the fumes can be harmful.
Conclusion