What to Put on a Water Bottle? Personalization!
There are countless items you can put on a water bottle to personalize it, including stickers, labels, decals, charms, or even oil-based paint markers. With these, you can create any design to reflect your personality or interest.
Personalising your water bottle not only makes it unique and easily identifiable but also offers a chance to express your creativity.
You can use stickers of your favourite band or movie, labels with your name or initials, decals of geometric shapes or quotes, charms for aesthetic appeal, or oil-based paint markers for intricate designs.
Personalise your water bottle with stickers of your favourite themes.
Use labels with your name or initials to easily identify your water bottle.
Apply decals of geometric shapes, quotes or images for a unique look.
Hang charms on your water bottle for aesthetic appeal and personal touch.
Use oil-based paint markers for custom designs.
Personalising your water bottle allows you to express your style and creativity. With the use of stickers, labels, and other items, your water bottle becomes more than just a hydration tool – it turns into a reflection of your individuality. So, have fun and be creative!
8 Ideas: What to Put on a Water Bottle
| Item | Description | Example |
| --- | --- | --- |
| Company logos | Water bottles can be customized with the company's logo for marketing and branding purposes. | A Coca-Cola water bottle |
| Personal names | Personal names can be engraved or printed on water bottles. This is especially common for sports or gym bottles. | "Sarah's Bottle" |
| Quotes | Inspirational or motivational quotes can be added to personalize water bottles. | "Stay Hydrated!" |
| Artwork | Artistic designs or patterns can be printed on water bottles to make them more eye-catching. | Floral patterns, geometric designs |
| Event details | If the water bottle is for a specific event, details like the date and location can be added. | "5K Fun Run 2023" |
| Photos | Personal or company photos can also be used for customization. | Family photo, company team photo |
| Branding | If the water bottle is from a specific brand, their logo or company name can be added. | A Nike Swoosh |
| Contact Information | For corporate or event bottles, contact information might be included. | Company website or phone number+ |
8 Ideas: What to Put on a Water Bottle
Key Takeaway
Water bottles can be personalized and used as a promotional tool for brands, events or awareness campaigns.
Creative designs and messages can make water bottles attractive and inspiring, encouraging more frequent use and hydration.
The use of eco-friendly materials for personalizing water bottles can convey a strong environmental message.
The content on a water bottle can cater to various customer segments; for example, kids' water bottles can include educational content or popular cartoon graphics.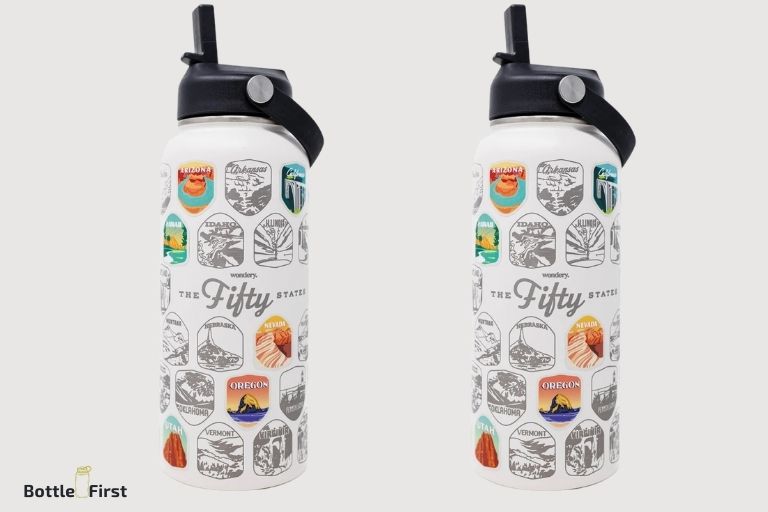 Five Facts About: A Personalize Water Bottle
Custom water bottles are a popular item in the promotional products industry with an estimated market size of $23.3 billion in 2018 in the U.S alone. (source: Advertising Specialty Institute)
Using water bottles for advertisements or brand promotions helps in long term brand exposure as compared to the traditional print or television adverts. (source: Small Business – Chron)
Personalizing water bottles can have a positive behavioral effect, as a study revealed that 49% of participants drank more water if it was in a personalised water bottle. (source: Health Psychology Report)
Most of the personalized water bottles are created using materials like stainless steel, aluminum or BPA-free plastic, with an increase in demand for eco-friendly options. (source: Statista)
In schools, customized water bottles have become a smart choice for fundraisers. They often raise more money compared to traditional methods, such as selling candy or cookies. (source: Oxford Academic)
Why Personalizing Your Water Bottle Matters
Expressing Your Personality
Personalizing your water bottle allows you to express your unique personality and style.
It is an opportunity to showcase your interests, hobbies, or even support for a cause.
By adding stickers, decals, or custom designs, you can make your water bottle a reflection of who you are.
Whether you're into sports, music, travel, or art, your water bottle can become a conversation starter and a way to connect with others who share similar passions.
It's a small but meaningful way to stand out from the crowd and let your individuality shine.
Easy Identification
One of the practical advantages of personalizing your water bottle is easy identification.
In a crowded setting, such as a gym or office, it can be challenging to keep track of your belongings.
By customizing your water bottle with distinct colors, patterns, or even your name, you can quickly identify it as yours.
This eliminates the risk of accidentally picking up someone else's bottle and helps ensure that you stay hydrated throughout the day.
Additionally, if you misplace your bottle, the unique design can make it easier for others to spot and return it to you.
Promoting Sustainability
Personalizing your water bottle promotes sustainability and reduces waste.
Instead of constantly purchasing single-use plastic bottles, having a reusable water bottle is an eco-friendly choice.
Customizing your bottle serves as a reminder to use it regularly, reducing the reliance on disposable alternatives.
Additionally, when you have a water bottle that you've personalized and grown attached to, you're more likely to take care of it and keep it for a longer time, further minimizing waste.
It's a simple yet impactful way to contribute to a greener environment and make a positive difference.
Remember, personalizing your water bottle allows you to express your personality, makes it easily identifiable, and promotes sustainability. So go ahead and unleash your creativity by customizing your water bottle today!
Functional Items To Put On A Water Bottle
Personalizing your water bottle not only adds a touch of individuality but can also provide practical benefits.
From keeping track of your bottle in a crowded gym to motivating you throughout the day, there are several functional items you can add to personalize your hydration companion.
Consider the following options:
Name or initials: Adding your name or initials to your water bottle can make it easily identifiable, especially in places where multiple bottles could be present. It also adds a unique touch and makes it feel more personal.
Stickers and decals: Decorative stickers and decals offer endless possibilities for customization. Whether you're into sports, animals, or your favorite tv shows, you can find stickers that align with your interests and add a pop of personality to your water bottle. Just make sure they are water-resistant and easy to remove if you decide to change the design.
Inspirational quotes: Inspire yourself to stay hydrated by adding motivational quotes to your water bottle. From empowering mantras to uplifting phrases, they can serve as a reminder to keep sipping throughout the day. Opt for water bottle sleeves or custom labels that can be personalized with your favorite quotes.
Emergency contact information: While it may not be the most glamorous option, including emergency contact information on your water bottle can be a lifesaver in unexpected situations. Ensure that your information is clear and easy to read. Consider using a waterproof label or writing directly on the bottle with a permanent marker.
By adding functional items to your water bottle, you can enhance both its practicality and personal appeal.
Find options that resonate with you and embrace the creative possibilities to make your hydration companion truly one-of-a-kind. Stay hydrated, stay stylish!
Style Options To Decorate Your Water Bottle
Custom Designs Or Artwork
Water bottles are not just functional, they can also be stylish accessories to express your personality.
One way to make your water bottle stand out is by adding custom designs or artwork.
Here are some key points to consider:
Personalization: Custom designs allow you to add a personal touch to your water bottle. You can showcase your creativity by incorporating your own artwork, illustrations, or even your initials.
Inspiration: Custom designs on your water bottle can serve as a source of inspiration. Whether it's motivational quotes, empowering messages, or beautiful designs, having a unique visual reminder can boost your mood and motivation throughout the day.
Branding: You can use custom designs to promote your brand or showcase your business logo. It's a great way to create brand awareness and make a lasting impression.
Gifts: Custom-designed water bottles also make fantastic gifts. Whether it's for a birthday, anniversary, or special occasion, adding a personal touch will make it a thoughtful and cherished present.
Colorful Patterns
If you're looking to add some vibrancy and visual appeal to your water bottle, colorful patterns are a great option.
Here are some key points to consider:
Variety of options: From geometric shapes to floral prints, there are countless colorful patterns available to suit your taste. Whether you prefer bold and eye-catching designs or subtle and elegant patterns, there's something for everyone.
Personal style: Colorful patterns allow you to showcase your unique style and personality. Whether you go for a vibrant rainbow design, a mesmerizing tie-dye pattern, or a simple yet striking polka dot pattern, your water bottle will definitely make a statement.
Expressive and fun: Colorful patterns can bring a sense of joy and playfulness to your water bottle. They can brighten up your day and add a pop of color to your hydration routine.
Coordinating accessories: If you enjoy matching your accessories, you can find colorful patterns that complement your other belongings such as bags or phone cases. Creating a cohesive look is a fun way to express your personal style.
Trendy Logos Or Symbols
Incorporating trendy logos or symbols on your water bottle is another way to keep up with the latest trends.
Here are some key points to consider:
Pop culture references: Trendy logos or symbols can include references to popular movies, tv shows, or music. By displaying your favorite icons, you can show your love for a particular fandom or simply stay current with what's trending.
Fashion-forward: Logos or symbols from popular fashion brands can add a touch of style and sophistication to your water bottle. It's a great way to showcase your fashion sense and stay on top of the latest fashion trends.
Social causes or movements: Another popular trend is displaying logos or symbols that represent important social causes or movements. It allows you to raise awareness and show your support for issues that are close to your heart.
Conversation starters: Having a trendy logo or symbol on your water bottle can spark conversations and connections with like-minded individuals who share similar interests. It's a simple way to build connections and find common ground.
Nature-Inspired Motifs
If you're a nature lover, incorporating nature-inspired motifs on your water bottle is a perfect choice.
Here are some key points to consider:
Serenity and tranquility: Nature-inspired motifs such as landscapes, plants, or animals can evoke a sense of calmness and serenity. It's a way to connect with the beauty of the natural world, even when you're on the go.
Eco-friendly reminder: Using water bottles with nature-inspired motifs can serve as a reminder to protect the environment. It's a subtle way to promote sustainability and encourage others to make eco-friendly choices.
Connection to the outdoors: If you enjoy outdoor activities like hiking, camping, or simply spending time in nature, having a water bottle with nature motifs can remind you of those experiences and keep you connected to the outdoors even when you're indoors.
Aesthetically pleasing: Nature-inspired motifs are often visually appealing, with intricate details and soothing colors. They can add a touch of elegance and beauty to your water bottle, making it a true work of art.
These style options provide a wide range of choices to decorate your water bottle and make it uniquely yours.
Whether you prefer custom designs, colorful patterns, trendy logos, or nature-inspired motifs, let your water bottle reflect your personality and add a touch of style to your everyday hydration routine.
Practical Accessories To Enhance Your Water Bottle
Are you tired of your plain and boring water bottle? Looking to add some practical accessories to enhance your hydration experience?
Look no further! In this section, we'll explore some great options to revamp your water bottle and make it more versatile and convenient.
Bottle Sleeves Or Pouches
Bottle sleeves or pouches provide insulation and protection for your water bottle, keeping your drinks hot or cold for longer periods of time.
These sleeves are designed to fit snugly around your bottle and come in a variety of styles, colors, and materials.
Some sleeves even have additional pockets or compartments for storing small essentials like keys, cards, or cash.
With a bottle sleeve, you can easily carry your bottle wherever you go without worrying about condensation or accidental spills.
The added insulation also prevents your hands from feeling too hot or cold when holding the bottle.
Carabiner Clips
Carabiner clips are a practical accessory to keep your water bottle easily accessible, especially when you're on the go.
These clips can be attached to your backpack, belt loop, or gym bag, allowing you to carry your bottle hands-free and without taking up valuable space.
Carabiner clips come in different sizes and materials, ensuring a secure attachment and minimizing the risk of your bottle falling or getting lost.
They are particularly useful during outdoor activities like hiking, camping, or biking, where you need quick access to your water.
Infuser Inserts For Flavor Infusion
Tired of plain water? Infuser inserts can add a burst of flavor to your hydration routine by infusing your water with fruits, herbs, or even tea leaves.
These inserts usually fit directly into your water bottle, allowing the flavors to mix with the water and create a refreshing and flavorful drink.
With an infuser insert, you can experiment with different combinations and create your own personalized infused water recipes.
Not only does it make your water more enjoyable to drink, but it also encourages you to increase your daily water intake.
Thermometer Or Temperature Gauge
Are you particular about the temperature of your water? A thermometer or temperature gauge can come in handy.
This accessory allows you to monitor the temperature of your water, ensuring it's at the perfect level for your preferences.
Whether you like your water ice-cold or lukewarm, having a temperature gauge ensures you're always satisfied with the temperature of your drink.
It's especially convenient if you're using your water bottle for hot beverages like coffee or tea.
Enhancing your water bottle with these practical accessories not only adds functionality but also makes your hydration routine more enjoyable.
From keeping your drinks at the perfect temperature to infusing them with delicious flavors, there are countless ways to upgrade your water bottle.
Choose the accessories that align with your needs and preferences, and take your hydration experience to the next level.
Additional Considerations For What To Put On A Water Bottle
When it comes to choosing what to put on a water bottle, there are several factors you should consider to ensure you make the best decision.
Washability And Durability
Opt for water bottle labels or prints that are washable, ensuring they won't fade or peel off over time.
Choose materials and inks that can withstand regular washing and won't deteriorate with exposure to water and cleaning agents.
Look for labels or prints that are resistant to scratching or damage, so your design stays intact even after repeated use.
Consider water bottle options with removable labels to allow for easy cleaning without damaging the design.
Safety And Health Implications
Use labels or prints made from food-safe materials to ensure that no harmful substances leach into your drinking water.
Avoid using materials with known health risks, such as vinyl or certain plastics, which may contain hazardous chemicals.
Prioritize labels or prints that are bpa-free, ensuring they don't pose a risk to your health, especially if you plan to reuse the water bottle.
Consider using labels or prints that have been tested for safety and approved by relevant regulatory bodies.
Potential Impact On The Environment
Choose eco-friendly labels or prints that are made from sustainable materials, such as recycled paper or plant-based alternatives.
Avoid using materials that are not biodegradable or recyclable, as they contribute to environmental pollution and waste.
Opt for water bottle designs that promote sustainability and encourage recycling behaviors.
Consider labels or prints that utilize environmentally friendly inks and printing processes to minimize their carbon footprint.
Regulation And Guidelines For Certain Settings
Be aware of specific regulations and guidelines applicable to different settings, such as schools, workplaces, or sports facilities.
Prioritize labels or prints that comply with relevant industry standards and regulations, ensuring they meet the necessary requirements.
Consider any restrictions regarding branding, advertising, or labeling in specific environments and choose designs accordingly.
Consult official guidelines or seek advice from authorities to determine what is allowed or recommended in different settings.
By considering factors like washability and durability, safety and health implications, potential impact on the environment, as well as regulations and guidelines for certain settings, you can make an informed decision on what to put on your water bottle.
Remember to prioritize your health, the environment, and compliance with relevant regulations for a well-designed and responsible choice.
FAQ About What To Put On A Water Bottle
Can I Put Hot Liquids In A Water Bottle?
Yes, most water bottles are designed to handle hot liquids, but check the bottle specifications to be sure.
How Do I Clean A Water Bottle?
You can clean a water bottle with warm soapy water or use a bottle brush for hard-to-reach areas.
Can I Put Carbonated Drinks In A Water Bottle?
Yes, many water bottles are suitable for carbonated drinks, but check the bottle's specifications to be certain.
Are Water Bottles Dishwasher Safe?
Some water bottles are dishwasher safe, but it's best to check the instructions on the bottle or contact the manufacturer.
Conclusion
There are numerous options to consider when it comes to personalizing your water bottle. From labeling it with your name to adding motivational quotes or stickers, the possibilities are endless. You can also opt for more functional additions, such as a fruit infuser or a built-in straw.
The key is to choose elements that not only reflect your personality but also enhance your overall hydration experience. By customizing your water bottle, you can make it truly yours and ensure that you reach your daily water intake goals.
Whether you're using it at the gym, at work, or on the go, a customized water bottle can serve as a stylish and practical accessory. So, don't hesitate to get creative and make your water bottle a true reflection of your unique style and preferences.
Stay hydrated and enjoy the journey to a healthier you!